Cristiano Ronaldo has a lot of personal achievements to his name for both club and country. The player has been able to amass a host of accolades during his footballing career, while most of them are personal, he also has collective records with his club and team members.
The player seems to make and break records so frequently we cannot even keep count of his achievements. Despite his age (33) years, he is showing no signs of slowing down and continues to impress at the most elite level.





Although the Portuguese and Real Madrid Legend has numerous records to his name, there are some that holds more weight than others. The sheer size of Ronaldo's record haul is quite impressive but not all are unbeatable.
Nonetheless, there are 4 of his records that we believe are amazing and are near impossible to be broken, hence our request for them to be in the Guinness Book of World Records. Here's a look at these four records held by Ronaldo that we believe must be listed:-
1. Winning every individual and team honour with two clubs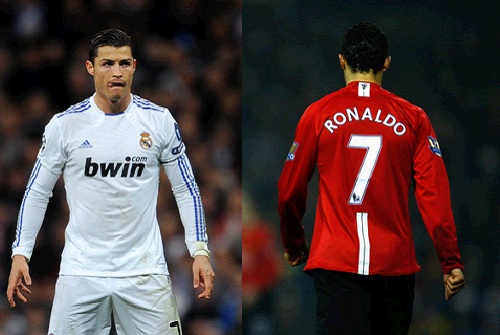 Cristiano Ronaldo while playing for Manchester United and Real Madrid CF has won the Ballon D'or, World Player of the Year, Golden Boot, Champions League, domestic league, domestic cup, World Club Championship, and domestic Super Cup.
The closest player to ever achieve this is former Real Madrid and French international Zinedine Zidanne, who won almost every individual and team honour at both Juventus and Real Madrid but not all of them.
2. Scoring 300 La Liga goal in 286 games
Critics of Cristiano Ronaldo will contest this but since his arrival at the bernabeu in 2009, Ronaldo has been nothing short of a goal machine.
Sometimes he creates goals out of nothing, his positioning for an out and out striker is superb. The Real Madrid legend who is considered a goal poacher as devastated many goal keepers in La Liga netting 300 goals in 286 matches. Not only is this impressive, it is the quickest any player has achieved this feat.
3. Scoring 50 goals for 6 consecutive seasons in a Top-5 league
Cristiano Ronaldo has amassed a whopping 50 goals in 6 consecutive season for a top – 5 league, this is no mean feat as no other player has been able to go more than 50 goals in 3 consecutive seasons. When we say CR7 is a goat the numbers show it.
Not only is he the quickest player to score 300 La Liga goals he did it in style by scoring all these goal in 6 consecutive season, now that's a mind blowing achievement.
Ronaldo's six consecutive seasons where he hit at least 50 goals (All while playing for Real Madrid):
10/11: 54 apps 53 goals
11/12: 55 apps 60 goals
12/13: 55 apps 55 goals
13/14: 47 apps 51 goals
14/15: 54 apps 61 goals
15/16: 48 apps 51 goals
4. Scoring more than 10 Champions League goals in 7 consecutive seasons
No other player in history has shown this level of consistency in the Champions League. It is as if the Champions League was made for Ronaldo. Even when Real Madrid is under-performing in La Liga, they have shown great wealth of experience and formidability in the Champions League.
All other records are important, but they do not illustrate Ronaldo's dominance without adding the Champions League achievements. Ronaldo has scored a whopping 10 goals in 7 consecutive Champions League matches.
To elucidate this point no other player has managed to score 10 goals in more than 2 seasons in the Champions League despite the competition being more than 60 years old.
In conclusion Cristiano Ronaldo (33) is still playing actively and has a contract which will see him in Real Madrid past his 35th birthday. It's almost certain that he will extend his records, this is why we make a claim for his record to be listed in the Guinness World Record for the mere reason that they will be hard to break.